Black weekend at the VLN long-distance championship
23.06.2013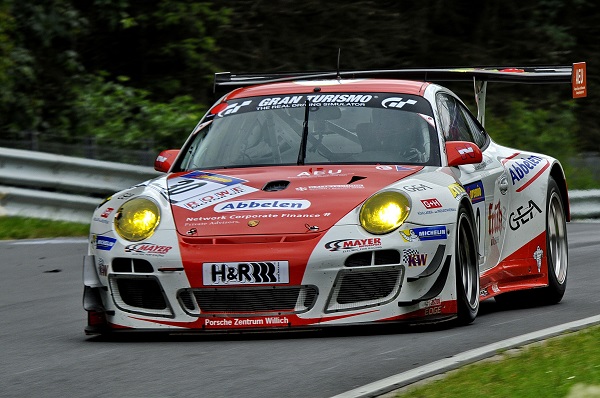 On 20.07.2013 the fourth VLN race for the 44. Adenauer ADAC Simfy Trophy at the Nurburgring started. The race was the first run after the 24h race and could boast with a starting field of 186 vehicles. Once more the Frikadelli- Racing team took part. While the private team from Barweiler was thrown back by a technical defect in the last race the drivers Klaus Abbelen, Sabine Schmitz (both Barweiler) and Patrick Huisman (Netherlands) wanted to put up a fight and obtain one of the top positions.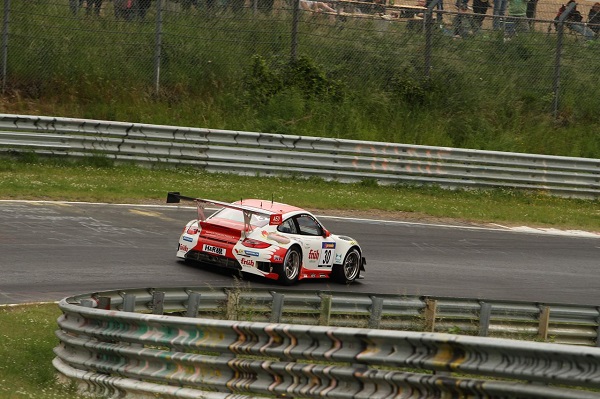 Already in the training everything seemed possible: with a 8:06.632 Patrick achieved the hitherto best time for the Porsche team and secured the third starting position for the fastest meatball of the world. The Dutchman was responsible for the start as well and could compete the Pace from the beginning. The leading group – consisting of an Audi R8 and two Porsches – broke away early from the rest of the field in the first two laps and showed with extreme low lap times a breathtakingly fast race. But already in the third round the Frikadelli- Racing team had to interrupt its chase for the pole position suddenly: a tyre damage forced an unplanned pit stop and set the Porsche back on the 21. position. Since the tyre damage happened near the end of a lap, the loss of time would have been bearable and could have been mostly compensated by a changed strategy. But all efforts failed, since Huisman radioed to the box for a second time. Another tyre damage put an end to the pursuit race and Patrick was forced to park the car at the Nordschleife to avoid severe secondary failures.
But the race wasn't finished by any other team either. Shortly after 14.00 the race was cancelled with the red flag. The cause for the termination was the death of Wolf Silvester – two times VLN champion. The whole Frikadelli- Racing team is in mourning for the loss of a fellow driver and is giving its heartfelt condolence to the family and surviving dependents..
Text: Hendrik Kebben
Photos: Martin Braun / Dominik Sternberg