First win for the Frikadelli Racing Team
22.07.2013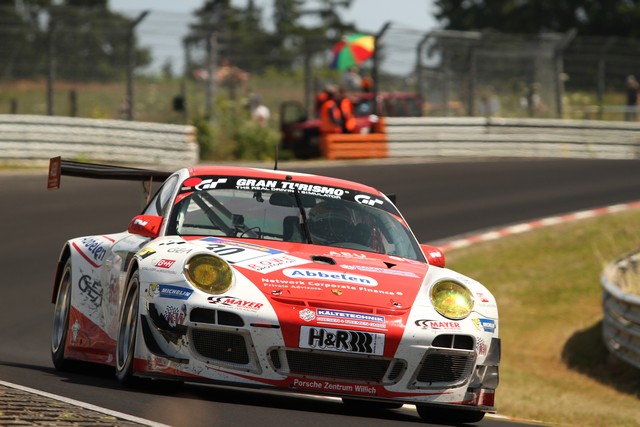 Last weekend the Frikadelli-Racing Team achieved a memorable result during the 53th ADAC Reinoldus- Langestreckenrennen at the VLN long- distance championship on the Nürburgring. The first overall victory in the history of the Porsche Team gave every reason for celebration. And yet the conditions didn't seem very promising at the beginning for the team from Barweiler: regular driver Sabine Schmitz recently injured herself on the knee during haying and had to give up her driver position. A replacement was found quickly in the form of Porsche works driver Patrick Pilet. The young Frenchman made his first appearance for the Frikadelli- team during the 24h- race. The driver trio was completed by crew chief Klaus Abbelen (Barweiler) and regular pilot Patrick Huisman (Netherlands).
The driving day attracted the audience with midsummer temperatures and a blue sky towards the race track. At the morning qualifying Patrick Pilet was the first pilot on the race track and secured himself with a 8:10.901 an early and good time. Klaus and Patrick Huisman were unable to improve this time – this resulted in a good 5th starting position for the fastest meatball of the world.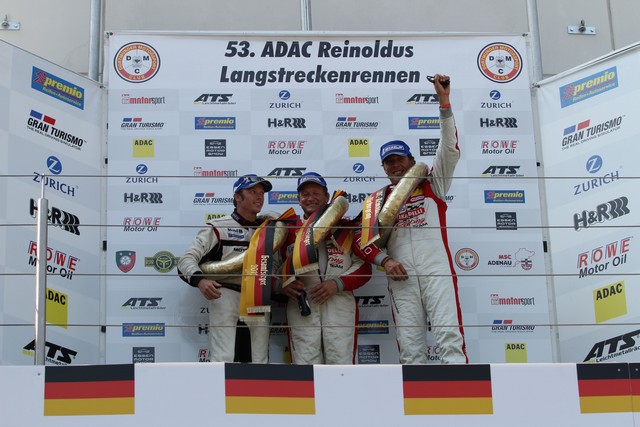 Already the start was spectacular and Pilet gave a head start. Due to clever tactical driving manoeuvres and a perfect drive he achieved already in the third round the second position and chased after the fast BMW Z4 in front of him. Because it had to refuel one round earlier than the Frikadellis they won first kilometres of leading.
The first change of drivers after round 8 to Patrick Husiman proceeded smoothly but a technical defect during the clocking caused an addition of 10 seconds lifetime. However Patrick fought his way back and reclaimed his earlier place. From then on the Frikadelli team held the leading position and increased their lead over the rest over the field step by step.

During the last change of drivers Klaus Abbelen took the wheel and proceeded the winning run without interruptions. During his finishing line the local team had an advantage of incredible 4:44 minutes competition which naturally had to celebrated appropriately.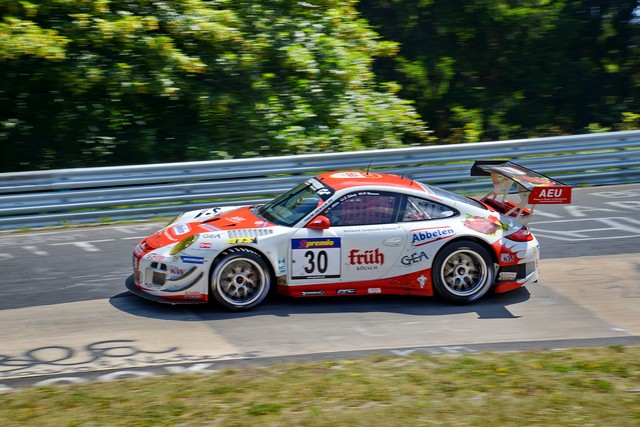 Team manager Frank Lynn found the appropriate words after the race: "The whole team performance matched – both the drivers and the pit stops were perfect today and without any error which was the headstone for the success. I am tremendously happy and thank all partners and sponsors which supported us. It was a great pitty that Sabine couldn't drive but we catch up on that. Cheers!"
Fotos: Dominik Sternberg / Martin Braun
Text: Hendrik Kebben