Strong performance from Frikadelli
14.04.2012
Only a few weeks before the 24h race at the Nürburgring race team's preparations are in full swing. Frikadelli Racing's main activities are already completed. How well the package of drivers and car working so far, should get checked at the 2nd VLN of the saison. After the unlucky last run, the plan was to get a good position in the first top ten in the second last race before the 24h. For the 37th DMV 4h race, all four drivers named who will be race in the 24hr race also. For Patrick Huisman was this the first race in the big Frikadelli Porsche.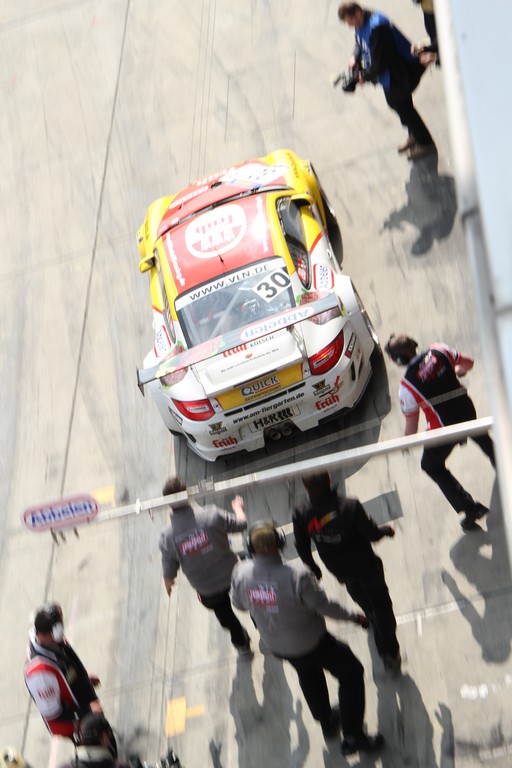 The qualifying session took the Frikadelli team this time a bit easier. After team leader Klaus Abbelen done the first lap, all drivers done a quick lap round the circuit. Only Chris Brueck, the fast start driver from the last race had a bad deal at the end. He wanted to do some really fast laps in the end, but because of the fickle weather he could not improve the lap time more. Despite that the team completed in the top ten with this result, what made them optimistic for the race.
The start this time was done by "Speedbee" Sabine Schmitz personally and she had to compete in this race against an absolutely top-class field of drivers. Right in the beginning of the race a hit in the rear of the Porsche GT3 R provided some unrest in the pit radio. Sabine lost through this bump some places, but thanks to her confidence and experience she got the car back in the line and intercept worse. To be on the safe side, decided team manager Frank Lynn to do the first pit stop a bit earlier, to examine the car closely. In this stop after the 5th lap also the driver changed and Chris Bruck was now behind the steering wheel. Chris could go along with the usual fast lap times and thanks Sabine's preliminary work he could bring the Porsche even more ahead.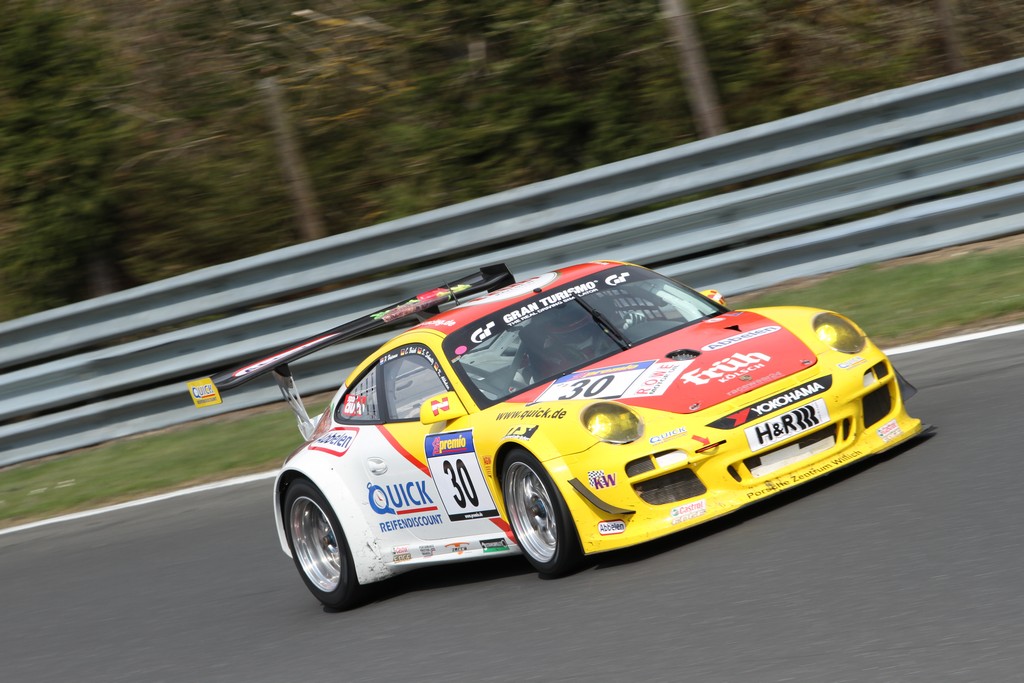 With his many years of Porsche experience, the third stint for Patrick Huisman was apparently not a particularly challenge. With a 8:29 in his first flying lap, it did not look as if the Dutch ever did anything else, as to pilot the Frikadelli Porsche. Final Driver Klaus Abbelen completed the four drivers and should bring to an end, what had made by the team by then already. But too soon the fickle Eifel weather brought a end to the successful race and once again, the race director got forced to quit the race early. So after 3 hours and 31 minutes race time a great 6th place was made, which provided in Box 8 happy faces. "A 5th Place we were aiming for, a 6th Place under these conditions is perfectly fine, " commented Klaus Abbelen the result.
Text: Hendrik Kebben